Introduction
Blemished and oily skin is not naturally matt and has many impurities on the skin; a natural glow may bring some freshness to your face. Still, it also emphasizes any impurities. Therefore, we prefer a matted rather than a glossy finish, especially in the T-zone, i.e., chin, nose, and forehead.
Need a Skincare Routine
You need to understand that when it comes to blemisked skin, you need to be careful about the products you are using on your face. They have to be dermatologically tested at all times.
Impurities arise from Sebum and Hormones
Oily skin has increased sebum production. As a result, it produces more skin fat than necessary, which then deposits on the skin as a glossy film. As a result, oily skin often leads to form blackheads and pimples, which is why oily skin is often associated with blemishes. If you want to know more about oily skip tips, visit us today.
Sebum and skin cells then expand in pore channels and are responsible for an irregular skin surface. The consequences of this are often enlarged pores.
The causes of Blemished and oily skin can be acquired or hormonal. Impurities can occur in stressful conditions or mixing up of hormones, for example, during puberty, pregnancy, or even during menstruation.
Tips Against The Oily Skin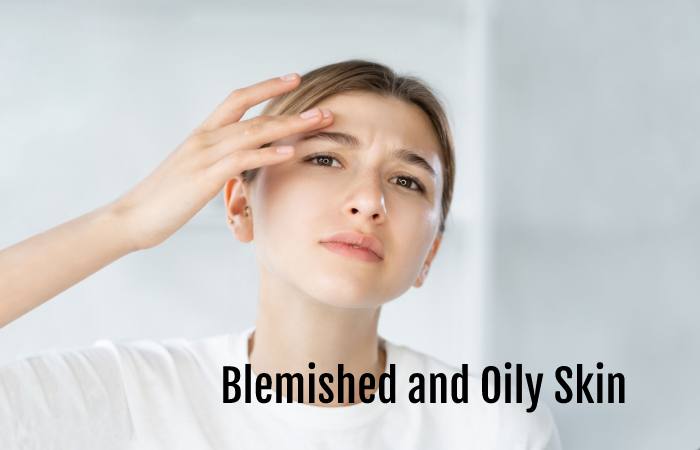 Brush and sponge: You should not apply your makeup with your fingers if you have an oily skin type. Better use a brush or sponge to work the product well into the skin.
Blotting Paper: A small piece of paper removes the sebum from the blemished and oily skin and gives you a matt look. If you don't have an anti-shine cloth nearby, you can dab the affected area with kitchen paper or a handkerchief. The main thing is that the fabric can absorb grease.
Primer
First, use a primer before the foundation. It is available in liquid or creamy form and is intended to reduce the size of the pores, making the makeup adhere better.
Powder
An oil-free powder can provide a fresher look when the sebaceous glands are particularly active during the lunch break. However, it is best to use a transparent variant to have a natural result.
Settings Spray
So-called settings spray to ensure a matt finish. It would help if you held the makeup as you applied it in the morning. However, you can also use a few splashes on the skin during the day to keep the matting
Need a Skincare Routine
They say that if you want to figure out someone's age, look at their hands, and research has confirmed it. For example, a study done in 2006 identified specific factors that increased the appearance of age in women's hands
Wrinkles, thin skin and dark spots are some of the signs of ageing and, luckily for us, and they are the easiest to prevent.
When it comes to our faces, we will — at the very least — exfoliate, moisturize and apply sunscreen, but our hands are lucky to get some leftover hotel lotion once in a while. Our hands are exposed to the elements daily
Moisturize Those Hands
Make sure to moisturize deeply before bed by making it part of your bedtime routine. Try a rejuvenating hand mask before turning in for the night, as s your hands take eight hours to absorb the nutrients and allow the Blemished and oily skin to heal.
To help prevent drying, cracking skin and premature ageing of the hands, you should apply a thick, rich moisturizer regularly, especially after washing your hands. In addition, carry a travel-sized tube of good hand cream when you are out and about.
Are You Washing Your Hands Correctly?
We all became more conscious of handwashing when COVID arrived on the scene. We now know to sing the birthday song (twice!) while we wash our hands, and we also learn to rinse them thoroughly. This may even be tempted to use hot water in our quest to kill germs, which can be hard on our hands. Don't go for the hot water! According to CDC guidelines, using warm or cool water is fine. Cool water is much less drying than using hot water.
Washing Hands
Use a gentle cleanser or moisturizing soap when you wash your hands to avoid stripping away your natural oils. If you tend toward dry skin, make sure to keep some moisturizer by the sink to apply it immediately after washing.
Don't Forget Your Cuticles!
For healthy nails, you need healthy cuticles. This thin band of skin that connects the base of the nail to the skin of the fingers does an important job. The cuticles seal and protect the nail bed, where a new pin is formed. Healthy cuticles are the first line of defence against bacterial and fungal infection.
Nail Polish Remover
cleaning products and other harsh chemicals can cause cuticles to suffer. Dry cuticles crack and peel and can be very painful when they catch on clothing. Cuticles that become dried out will pull away from the nail bed and can affect the growth of the nail, causing horizontal dents to occur in the nail. Using a good cuticle cream daily helps keep your cuticles healthy and strong. Massage any excess cream into the backs of your hands for an extra boost of moisture.
Exfoliate Your Hands to Help Them Glow
We exfoliate our faces, elbows, feet, and sometimes all over, but how often have you thought of exfoliating your hands? Probably never if you are like most people!
The skin on the hands is expose to weather, chemicals, physical trauma and frequent washing. That's enough to make anyone toughen up, and your skin is no different. The skin on your hands may thicken, leading to cracking and peeling. Taking the time for a little TLC can quickly turn the situation around, leading to softer, healthier-looking hands.
When you are in the shower or bath, take a moment to gently exfoliate the backs of your hands, especially the knuckles. Then, use whatever exfoliating product you'd use on the rest of your body, a loofah, scrubbing sponge, sugar scrub or whatever. Do not use a pumice stone or foot scraper, though, as that's too rough!
Conclusion
Make sure to moisturize deeply after exfoliating to keep that glow going. If you are not in the habit of exfoliating your hands, start gently and only do it once a week, and then build up to pampering those hands more regularly.