Dinner Date At Home: It doesn't matter if you are in a long-term relationship or have just started seeing the other person; going on dates helps strengthen the bond. Though breakfast and lunch dates are a thing, they are spontaneous. On the other hand, dinner dates are way more romantic and a great way to know more about your partner. Taking them out to a luxurious restaurant for a candle dinner may help you make a mark, but preparing dinner at home will be an intimate experience. Dinner dates at home jazz up the romance quotient, making it even more special if you can prepare CBD recipes. Cooking with organic products or herbs has been a widespread practice for decades. They add more nutrition to your food while spicing it up. CBD recipes' may make you think that you will have to go through an extensive cooking process or might be trapped in the kitchen all day. But that won't be the case. Cooking these recipes will be easy like the rest and will surely help you win over your partner's heart. You can also choose CBD gummies to end the night on a sweet note. But before we move on to dessert, let's first tell you how you can cook fantastic recipes you can cook using the herb.
How To Add CBD To Your Food?
You may ask why you should add cannabis to your food and increase your workload on your date night. It's all about having a beautiful experience. CBD helps add the extra zing!
But, how to add cannabis to your food? Should you crush it and use it as a garnish? Or treat it just like the other ingredients? We would suggest that an even better way to add the herb to your food is by using cannabis oil. It will seamlessly blend with your food without adding any robust and distinct taste to your food.
5 CBD Recipes To Add To Your Dinner Date At Home
Recipes infused with CBD are not of a different kind or do not require unique ingredients. Even the method and the process will be almost similar to regular recipes. You must also be careful with your measurements because adding too little of the product won't make any difference to your food, and adding a lot may lead to consequences.
Now, here are five CBD recipes for you to impress your date:
●     CBD Pesto Pasta
Pesto pasta can be safely called date food. The creaminess of the pasta makes dinner extra delicious and memorable. Though you struggle to perfect the recipe like the Italians, adding cannabis will help you.
To make the pesto, you will need:
parsley
cherry tomatoes
pine nuts
garlic cloves
full spectrum CBD oil
Once you have all the ingredients, wash your leafy greens by running them under cold water thoroughly. Then take all the ingredients for the pesto and blend them in a food processor until you get a smooth sauce. Once done, transfer the pesto sauce to a small bowl and cover it with plastic wrap. You can then store it in.
Now coming to the pasta, you will need uncooked penne pasta, asparagus, cherry tomatoes, butter, olive oil, lemon juice, red pepper flakes, cayenne, salt, and pepper. You can start the cooking process by adding the pasta to boiling water and cooking it according to the package directions. Then in a large saucepan, you can melt the butter and the olive oil and add the cooked pasta and the asparagus to the pan.
●     CBD Mashed Potatoes
If you and your partner want to opt for a relatively light meal, we will suggest you try out this special mashed potato. It doesn't involve much cooking, so you will have plenty of time to get ready and spend with your partner. The ingredients needed are pretty simple as well.
You will need:
whipping cream
parmesan cheese
CBD isolate powder
There's no such cooking involved in this recipe, so first, you must mash the potatoes and add all the other ingredients. Once done, you will have to whip them until you see they form a puree. The next step is to add the puree to a casserole dish after spraying it with non-stick spray. Then top off the mashed potatoes with parmesan cheese and bake it at 400° F.
●     CBD Guacamole
Suppose you are planning a movie night with your partner and not leaning towards a heavy dinner. Then you can prepare a charcuterie board for your partner with sweet and savory foods. Don't forget to add some pringles and the OG of all dips – guacamole. To add a fun twist, whip up some CBD guacamole instead of the regular one.
You will need only a few ingredients like:
lime juice
ground cumin
cayenne pepper
onion
small tomatoes
garlic clove
cilantro leaves
jalapeno pepper
full-spectrum CBD oil
●     CBD Latte Loaf
Another exciting recipe for you is a pumpkin spice latte loaf with cannabis-infused. The best part about the recipe is that it is paleo and gluten-free. So, if you invite your fitness freak girlfriend over, she will be happy with your choice.
The ingredients you will need for the loaf are:
apple cider
pumpkin puree
yucca-root flour
espresso powder
pumpkin pie spice
To begin, mix the apple cider vinegar with the baking soda to bring a fizz, and then add an egg to it. Stir the mixture until it foams up and you can spot a peak forming. Then lay down parchment papers on a bread loaf pan, pour the batter, and bake it for 30 minutes. Then put it in the freezer for another half an hour.
●     CBD Soup
A perfect appetizer for chilly nights is a bowl of hot soup. You can have a noodle soup full of ginger and garlic or the classic leek and potato. The easiest of all is the chicken and mushroom soup. The special ingredient in the soup will be cannabis-infused butter. You can follow your recipe for the soup, but before adding the chicken, melt the butter and add some flour until it turns a light brown color. Serve the soup immediately and garnish it with parsley or rosemary.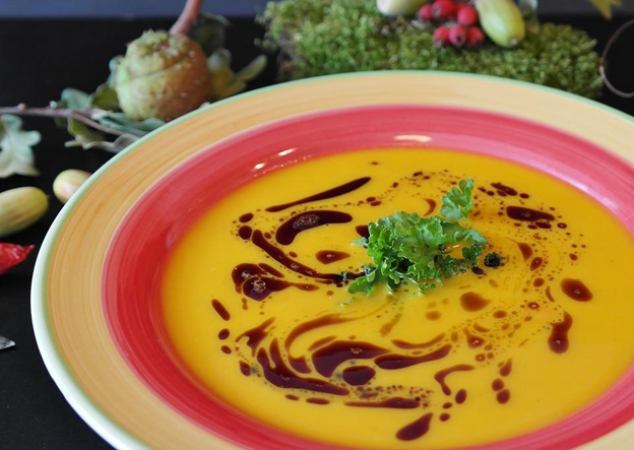 Conclusion
You must be surprised that one can add cannabis to regular recipes in exciting ways. Though the difference will be subtle, it will add a unique twist to the conventional dinner date foods. There are plenty of such recipes where you can add cannabis to increase their nutritional value. However, before you cook these recipes for someone, it's best to know about their allergies and other health issues. If your date has never tried such recipes, try to make the dish per their choice by limiting the use of cannabis.