A Meal With A Shake Or Slimming Bar for those who want to lose weight and be able to replace a meal. In this regard, the shakes or bars promise to provide the nutritional contributions you need to maintain good health. Now, is it true?
Remember that it is useless to lose weight by sacrificing good health because you will look malnourished and without strength, far from looking attractive. For this reason, this article will clarify if the substitute bars work for weight loss and what you should consider before signing up for this type of diet to lose weight.
What Are Substitute Bars Or Shakes?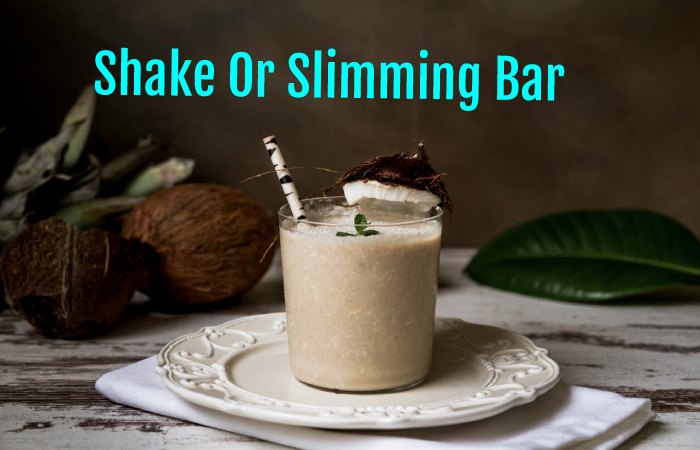 Substitute bars or shakes are those products that replace a meal to provide fewer calories and lose weight. There are many different products to replace a meal: protein bars, detox shakes, yoghurts, and sandwiches. Etc.
Many leading companies have focused on providing this type of shake to lose weight in a few weeks.
Do Shakes And Substitute Bars Lose Weight?
If you replace your lunch with yoghurt or a nutritional bar, you will reduce the number of calories because that food has less than what you usually eat. So we can affirm that if they serve to lose weight, foods such as fruit that are very low in calories can also be helpful.
How To Use The Substitute Bars Without Harming Your Health?
If you want to lose bulk, you should seek the advice of specialists. The nutritionist will offer you the best advice about the appropriate time to use substitute bars and Meal With A Shake correct way to follow a hypocaloric diet.
You should know that not all bars are the same. There are protein, low-fat, and high-fiber. You have to know their composition to assess what we need (reduce appetite, increase protein in the diet, reduce calories.) For this, it is preferable to ask the specialist.
You can use substitutes to SUBSTITUTE A specific MEAL, such as reducing bread consumption. In this sense, there are wheat bars with fiber.
How To Choose Substitute Bars Or Shakes To Lose Weight?
When choosing this type of food, you should check that it provides nutritional value. Therefore, we advise you to check if the bar has high-value protein, fatty acids, vitamins and minerals. It will help you enjoy a balanced diet, but it will also give you satiety, and you will be able to maintain this regimen for longer. You can choose 100% vegetable protein bars.
Substitutes can help us in our diet, but healthy and balanced meals and exercise must accompany them. Only with replacements will we not have results that are maintained over time. The ideal is to change eating and exercise habits.
To do this, a diet that provides all the nutritional requirements we need for our body to function correctly is recommended. In addition, exercising in the right measure is valid to achieve a "healthy" weight.
What Kind Of Smoothies Is The Healthiest?
The shakes can be made of "almost" any food, vegetables, fruits, carbohydrates. It is advisable to replace a meal with low-calorie, nutritious foods with good fiber content.
Is The Composition Of The Substitute Bar Essential?
You can find a wide variety of nutritional bars that are allies to maintain the ideal weight in the market. The most popular presentations are bars and cookies. The format itself is not essential. The essential thing is that they have adequate macro and micronutrient content.
Weight Loss Tips
If you want to lose weight healthily, you should seek the help of a nutritionist or endocrinologist. Now, avoid miracle diets that indicate intermittent fasting based on the consumption of inappropriate products. This diet can affect your metabolism and cause the "rebound effect".
Here Are Some Tips So You Can Lose Weight Safely
Consult A Nutritionist Or Endocrinologist
If you use substitutes such as bars or shakes, look for them to contain protein and essential nutrients. But, again, the composition is necessary to assess whether its use is appropriate or not.
Please do not use them as the only method to lose weight. Instead, combine with exercise and natural foods.
Change eating habits, reduce quantities and keep a fixed schedule
Do moderate exercise. If you are not used to it, start little by little.
Cook on the grill, oven, steam, and boil, before using fried, battered and other firms that provide a more significant number of calories in the form of fat.
Be patient and be consistent in your goal to lose weight. It is better to change your habits and A Meal With A Shake Or Slimming Bar weight more slowly, but keep it over time.
Risks Of Losing Weight Too Fast
Diets that promise to lose several kilos per week are hazardous. When the caloric intake is deficient, it is difficult for food to provide us with the necessary nutrients to optimise the body.
A diet that does not provide us with everything we need can affect our immune system and increase the risk of bacterial and viral infections.
Conclusion
It generally gives you a foul physical appearance and affects your daily activities and performance. Replacing a meal is possible with one of these products, but it is recommended to be part of a well and a meal with A shake Or slimming bar balanced diet.