SFA360.in  A powerful and highly customizable sales force automation tool is SFA360.IN. We continually add new features to it, transforming it into a cutting-edge cloud platform for sales force management. one of the pharmaceutical industry's most promising field-force management programmes. It can be set up for other industries besides the pharmaceutical one, such as FMCG, textiles, and electronics.
Plan For A Rich Feature List. Track. Examine
Organise your work beforehand. Track and analyse using real-time updates to better your "going to market" tactics.
A Unique Approach To Trend Analysis
A scheduled trip to the market is usually a smart idea. You can learn about market trends and market  intelligence via competition, trade, and demand studies.
Save Time And Resources
There is no confusion in the schedule thanks to planned visits and comprehensive asset management. Saving money by avoiding chaos.
Fencing And Geo-Tagging
One of the most advanced features is this geotagging technology. This will help you minimise
Sfa360.In: Why
With SFA360.IN, intensify your field force activities.
We serve companies of all sizes. businesses with 10 MRs to those like Abbott with 15000 MRs or more. SFA360.IN is tailored to meet your needs.
Powerful analytics and real-time information
effortlessly fits your business's needs
offered on the web, Android, and iOS
accurate reports on primary and secondary sales
Increased productivity thanks to process automation
Features Of Sfa360.In
Increasing Sales Using SFA360.IN
One of the top sales force automation solutions in India is SFA360.IN. With regard to their needs for sales force management, we serve numerous industry leaders. To keep our sales force automation software's cutting edge reputation, we frequently upgrade its features.
Manage Your Team With The Absolute Dashboard
You get to see real-time reports of all the activities your team is up to. Approvals, completions, notes, sales, leaves, etc. Get a bird's eye view of your field force on one single platform. Complete hierarchy management and logins.
Control Of The Calendar And Advanced Activity Planning
The benefit of having calendar control is the ability to schedule individual/personal commitments and responsibilities well in advance. Your field crew can stay clear of last-minute misunderstandings or remember any significant commitments.
Complete tasks in accordance with the requirements.
Alert for Important Days: Anniversaries and Birthdays of Customers
Plan your individual and personal commitments and tasks.
Competition Trade & Demand Analysis
Competition trade & demand analysis gives you a fair idea of the market. You get the insights about your audience, competitors etc., so you can make informed decisions leading to growth. It helps you do your market trend homework. Be the Sherlock of your business.
Get market insights and trends
Anticipate right products for right customers
Hit bulls eye with accurate decisions
e-Detailing Visualize. Show. Sell
eDetailing is the revolutionary technological feature in our sales force automation software, designed to empower your skilled fieldforce. Showcase products, ensuring an immersive and engaging experience that leaves a lasting impression on customer senses.
Promotes high quality engagement with customers.
Capturing customer interest is simplified with effective visual stimuli.
Easy to comprehend visual aids increases engagement.
Real time expense tracking jetpack
All the possible expenses are pre-recorded in the sales force automation software. Expense gets calculated in real time as your fieldforce performs activities like travel, stay, mode of commute etc. Makes it easier for management to track real-time expenses of the sales force. Without manually having to interfere for updates.
Geo-Fencing / Geo-Tagging – Advanced Feature In SFA360.IN.
Automation of field force expenses, based on real-time data.
Maintains Utmost Accuracy.
Intelligent Reports, Intelligent Business Decisions with SFA360.IN
Relying on clever, intelligent data is a smart way to make decisions. It enables you to decide anything with knowledge and objectivity. You can improve your ability to make business decisions by having access to a variety of smart reports.
The Advantages Of These Reports For Your Company Are As Follows: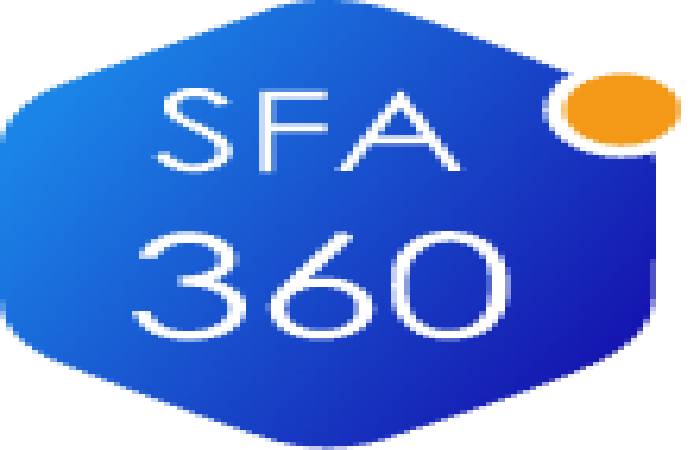 Users can access analytical reports from SFA360.IN that cover sales, performance, costs, and return on investment (ROI). These reports provide insightful information on a number of business-related topics, including sales trends, team and individual performance, spending analysis, etc.
The reports are arranged into dashboards by sales force automation software, which can be set up in accordance with the organisational hierarchy. This hierarchical structure makes sure that all organisational levels have access to the necessary data and reports.
Asset Management
Your fieldforce needs to be properly equipped with proper and valuable assets. These assets can be tangible or intangible. Maintaining a proper knowledge of these assets is a must. Our sales force management software helps you record and track it seamlessly.
Real-time knowledge of asset distribution.
Can track maintenance cycles of these assets easily.
Planned material management and reduced admin intervention.
Management Of CME And CRM.
Your company can keep client databases centrally on the CRM & CME module of our sales force automation software.
Keep track of the investment vs. ROI made by your sale s staff.
Simple to use tactics for maximising business.