Spinning bikes are a fun and consistent way to exercise. In reality, this type of sports practice, done with spinning bikes, is not usually that extensive; 30 to 60 minutes a day is enough. With this sports equipment, in weeks, you will be able to see the results in your physical and even mental health
What Is A Spinning Bike?
An indoor cycle; as it is also known, it is a fixed or stationary bicycle. However, the indoor ones have more advanced features, facilitating strength training.
Spinning bikes may "appear" the same as a classic stationary bike. However, the operating system and other added parts make the latter a bike for cycling professionals.
How Is A Stationary Bike Different From A Spinning Bike?
Exercise bikes were the first to hit the market, their design is compact, and they have less weight on their flywheel. It is ideal for older people or novice athletes. However, it can be said that it is a basic bicycle.
On the other hand, Spinning bikes are people with more training. It is because they have a heavy crown linked to pedalling. In addition, its innovative inertia disc means that, even if you stop pedalling, it keeps moving. Therefore, this type of bike's functionality lets you perform HIIT training by optimally exercising your muscles.
By the way, spinning is usually done in a group where aerobic and anaerobic work is done. The exercise is generally done with the guidance of a coach, which allows sports days to be more lively, challenging and energetic.
Advantages Of A Spinning Bike
Do you still have doubts about the indoor cycle? Then, we will review some of the most outstanding advantages of this type of bike, that way, and you will be able to know if it is just the exercise machine at home that you need.
It helps you increase muscle mass
You have more training programs than with a conventional stationary bike.
It has a more robust and stable structure.
It helps you improve endurance.
is still low-impact training despite demanding more effort, so injuries do not occur.
Promotes health, balancing blood pressure and cholesterol.
Health benefits of spinning
The benefits of intensive training days allow you to develop more excellent resistance. If combined with a weight loss diet, you can lose kilos very quickly. But that's not all. It also contributes to the formation of muscles.
Next, we will highlight the most outstanding benefits.
Improves Cardiovascular Endurance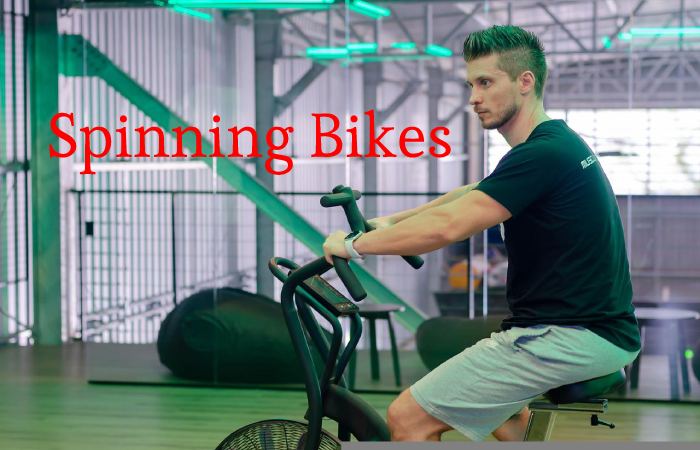 These types of bikes have programs that simulate mountain biking, road biking, etc., so better resistance is developed.
Strengthens The Immune System
According to a study accepted by the Department of Physiology, Faculty of Medicine, University of Antioquia, Medellín, Colombia, it was found that exercising at different intensities acts to strengthen the immune system because it increases the plasma concentration of four cytokines.
Reduces Stress
By spinning regularly, your body can release cortisol levels, which helps fight stress.
Helps Burn Fat
Training routines in an indoor cycle allow you to burn just over 700 kcal. But, of course, to achieve these results, you have to maintain the pace of intensity.
Helps Sleep Better
Spinning is a type of exercise that favours the production of melatonin (sleep hormone). Consequently, it is possible to improve the quality of sleep and its rapid conciliation.
The AIRSOFT ergonomic saddle allows you to be comfortable while training your glutes. Although you can correct the height of the handlebar, it is comfortable for users shorter than 1.80 meters.
You can adjust the light pedal training to high resistance, ideal for those seeking a high activity level.
FITFIU Fitness
The inertia disk of this model is 16 kg, in which you can perform complete workouts from the comfort of your home. Moreover, it has resistance levels adapted to your sports level or to the different family members.
It has a Silent+ strap, in which you will not make any annoying noise while you train. This is appropriate for people weighing up to 100 kg.
It has support for tablets or devices where you can watch spinning sessions online or watch your favourite streaming programs
FITBIT BESP-200
This spinning bike model deserves a place in this list of the best bikes. First of all, it has an 18 kg flywheel. You can regulate the resistance to increase the intensity levels.
On the other hand, it has a comfortable saddle which you can adjust the height. In addition, it has a monitoring screen where you can keep track of calories burned, distance, speed and other data of interest.
VOLVO Smart Bike Exercise Bike
This spinning bike has an attractive, robust and resistant design. It is indoor cycling with magnetic brake and transmission by effective mail and not noisy.
Spinning bikes allow you to train at home. Although this activity is usually done in a group, you can take advantage of the audiovisual tools of some brands to feel like you are in a group of professional cyclists. In reality, you have many options for better health.
Conclusion
With this type of exercise machine, you can lose weight and gain resistance, muscle, and other things, without going anywhere. And best of all, since it is an adjustable bike, it is suitable for the whole family.