It's the dead of winter! It's also time to get out your winter hats, which you may wear for various events to keep you warm and snug.
They not only give comfort, but they may also add a special touch to your day's attire. You may be familiar with the most basic varieties of winter hats, but there are many other possibilities on the market. So, let's have a look at the many styles of winter hats:
Wildfowl Cap on Canvas
This Canvas Wildfowl Cap is ideal if you're searching for a durable, multi-purpose hat that you don't mind getting a little soiled. It's perfect if you're looking for a casual style and a hat to wear while performing everyday tasks like gathering wood, shoveling snow, and other winter chores.
Hats With A Wide Brim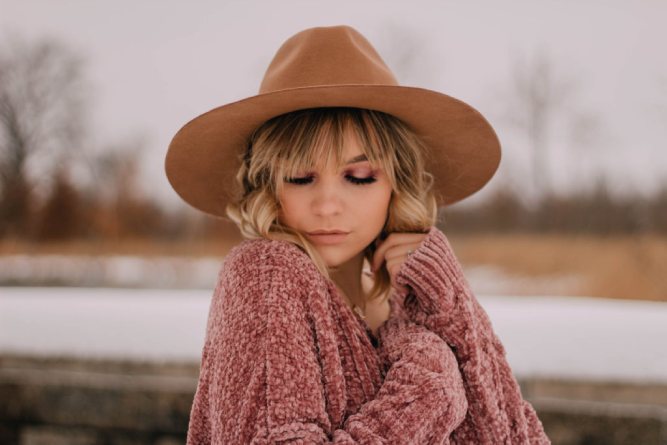 It is a must-have item for any woman's wardrobe. It's a flexible headpiece that you may wear throughout the year. It protects from various weather conditions, including the sun's heat and the cold snow. If you want to instantly boost any winter ensemble, having a broad brim hat on hand is ideal.
It features longer material on the sides to shield your ears and prevent frostbite. Some ski hats contain strings that you may tie together to keep your ski hat from blowing away in the wind while you're skiing.
Also Read: Anklets: Everything You Need to Know
Cossack
If you frequently attend Christmas parties or other formal events throughout the winter, you may want to keep your appearance professional by wearing a winter hat that complements your outfit.
Fortunately, cossack is an excellent alternative for such occasions. Not only does it give just the proper amount of warmth, but it also functions as a high-class wardrobe essential. It gives you a respectable appearance, which will increase your confidence while you're wearing it. It is critical to understand that this hat will base on a Russian custom from the south.
Ushanka
Having lived in Ukraine and other parts of the former Soviet Union, I can tell you that many of these winter styles originate there because people live and breathe in the cold.
You know what I'm talking about if you've ever been to Siberia. Winter is harsh in that part of the world. You can get away with it to some extent in the United States, but not so much in Canada, and if you don't wear the proper gear, you'll get frostbite quickly in those parts of the world. And, because they had to look nice, they devised a variety of looks.
Hat With Pom Poms
Nothing could be more classic than pom winter hats if you desire a more traditional style. This style is easy to pull off for kids, teens, and even adults, and it will bring some excitement and joy to your wardrobe. Dogs can also wear a little pom cap to keep them warm.
Hat for a Trapper
The Trapper winter hat is ideal for staying or performing activities demanding you be outside in the cold for more extended periods. It can easily keep you warm in temperatures as low as -20°C and protect you from powerful blizzards that may occur. It should note that if you wear this hat in typical chilly weather, you will undoubtedly sweat.
In this cold winter season, make sure you remain warm! Knowing the many sorts of winter hats is necessary to ensure a thorough understanding of the types of winter hats you may wear for various situations without sacrificing comfort or elegance. You may play around with multiple colours, textures, and brands for these winter hats. Have a wonderful Christmas season.
Also Read: MEN CAN'T LIVE WITHOUT THESE TOP JEWELLERY PRODUCTS