Introduction
This type of anti-blemish depigmenting facial cream is a cosmetic treatment that contains a concentration of specialized active ingredients to stop the pigment in the skin and consequently lighten it. The depigmenting facial cream is the work of a cosmetic by unifying the colour of the skin.
Of course, you need to protect your skin from ultraviolet rays, as these are one of the most common causes of dark spots. Of course, age or a disorder with hormones can also affect this appearance. We will clarify how you can use these creams and which ones are the best.
Depigmenting Cream
Our skin can generate an increased amount of melanin (hyperpigmentation) due to various factors, such as pregnancy, menopause, sun exposure, etc. These creams stop the production of melanin. Therefore, the skin looks lighter and with a more even tone.
In this way, they reduce the spots, reducing their size in their initial stage until they are eliminated.
An outstanding aspect is that this type of treatment helps prevent new appearances, so you can use it to remove age, sun, or hormonal spots and prevent them.
Are Depigmenting Facial Creams Effective?
Depigmenting creams are effective if accompanied by changes in our lifestyle. In other words, if your spots are related to exposure to the sun, you should limit your outings. In addition, wearing clothing that prevents direct sun exposure is an excellent preventive measure.
On the other hand, the use of sunscreen is vital. First, you must choose one that is in harmony with the characteristics of your face, be it oily, mixed or dry. Next, you can go to your essential pharmacy and purchase a fast-absorbing facial filter. You should know that these treatments are not magical, so persistence is required. Finally, it is convenient to go to a dermatologist to prescribe the best depigmenting cream for our skin.
Due to their composition, these creams reduce and eliminate stains because they have vitamin C, alpha hydroxy acids (AHA), vitamin B3, azelaic acid, antioxidant, serine and other super lightening active ingredients. At the same time, they have sun protection to protect the skin.
How Is The Depigmenting Cream Applied?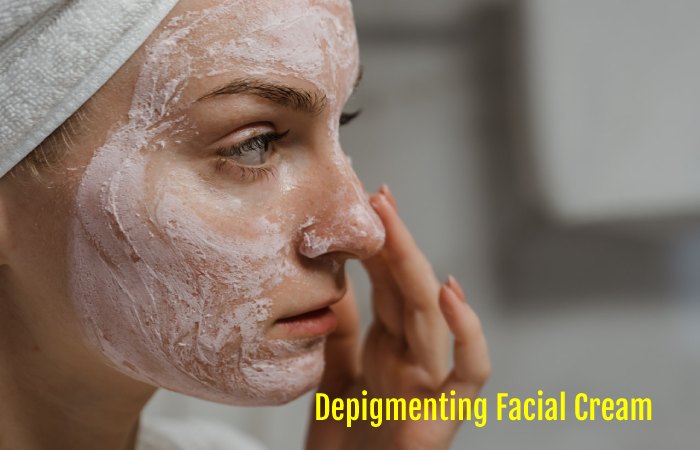 Before applying a facial treatment, it is advisable to read the product's description. The correct form of its application is usually indicated there, but the steps are generally the following:
Wash your face, take away all traces of makeup
Dry with a clean tissue
Apply a small drop with your fingers at night and spread over the entire face, not just on the spots
Let it sit for at least an hour. Then if you want, you can apply your usual moisturizing cream
In the morning, wash your face well and apply sunscreen.
These creams tend to take effect between 6 to 8 weeks. But, it is necessary to apply it every day correctly during that time.
Tips For Using Anti-Blemish Creams
We recommend using depigmenting sold in pharmacies, which translates into quality creams. Still, it is also necessary to understand how these creams work, so we want to give you some advice on their application so that you are successful in your skin depigmentation treatment.
Apply preferably at night. It allows the treatment to act more effectively and regenerate the cells. Of course, it is advisable to read the description of the treatment you have chosen, as some creams can be used during the day.
Use sunscreen. Even if the depigmenting you have chosen can be used during the day, you must use a sunscreen. Some creams have a specific sun factor (SPF), convenient for limited exposure to the sun. But, if you are going to sunbathe for more than an hour, use facial sunscreen.
Use the treatment for a limited time. Usually, these treatments last a couple of months. If you have not seen improvement after this time, talk to your dermatologist.
Dark spots usually appear as a defensive response of the skin against the sun's rays (there may be other causes), so when using a treatment to lighten it, you leave the skin exposed, so if you expose yourself to the sun, even if you do not have the cream on, can intensify, causing even darker spots.
For this reason, use sun protection during treatment and use the depigmenting agent for a few weeks.
Best Depigmenting Creams
In your consultation with the doctor, he may recommend a particular cream. First, however, we will present you with the best depigmenting creams concerning their effectiveness.
1. Rilastil d-clar Depigmenting
Rilastil gives you a melting cream that attenuates sun spots, acne, melasma and even medication. Although it is quickly absorbed and easy to use, you must use a filter to complement its effect.
2. Gema Herrerias Retinol Serum 0.3%
This SERUM has retinol at €0.3, niacin, hexapeptide-10 and chamomile extract, depigmenting, anti-wrinkle and antioxidant action.
Conclusion
This anti-blemish treatment contains kojic acid, bearberry arbutin, red vine, and allantoin, which help regenerate the skin. Clarifies and strengthens the structure of the skin, restoring luminosity and youth. Maintains elasticity, thanks to its contribution of collagen