If you are a fan of cycling for exercise, then you might probably already know that it is one of the best exercises ever. There is no need to lift heavy weights at the gym, just you and your cycle, toning your muscles to shape.
Now, there is a new phenomenon happening in the fitness world and it involves cycling in the virtual world. It is called Indoor cycling and it is made possible through apps like Vingo. With these apps, you can cycle anytime you want, at the comfort of your homes all the while you are entertained.
No Need of Heavy Investments
The main advantage of this new trend is that you won't have to invest in a lot of expensive equipment. With the rising cost of production, the price of even regular daily use cycles has gone up. The exercise cycles with a lot of functionalities need no say.
With this new trend, you can switch to a training bike, you can save a lot and enjoy all the benefits of cycling. Any basic model of training bike will be enough, since it is the app that's going to change your cycling methods.
Anyone Can Cycle with Ease
Also, anyone with interest in cycling can join this trend. All they need is an internet connection with the app installed on their smart devices.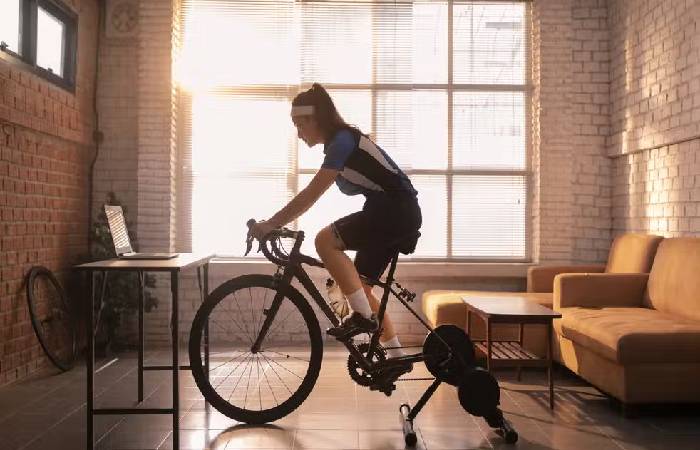 The users can then jump into the online space and ride in the virtual reality. That is why it is also called Online cycling. You can join the thousands of people who come into the app every day and team up with them to exercise.
Get this Great App for Cycling
Like we said before, the apps take you into the online world for you to work-out. As of now, Vingo is the best Indoor cycling app available in the market. This app's subscription fee is the lowest among all the available apps and it also comes with a load of features. Hundreds of virtual locations, avatars, voice chat and a lot more amazing features come with the app. You can explore all of them for free too, since the developers have made it open for all, until the end of 2022.
Share Your Progress on Social Media
Once you install the app on your phone or tablet, you can connect the device with your training bike and select a location in it. The app will automatically detect your speed and other settings and adjust your sceneries accordingly. You can post your daily progress into all your social media accounts directly from the app too. With the Vingo app all these tasks are done seamlessly with ease.
Stick to the Schedule & Stay Disciplined
As always, it is not just about starting the cycling habit, it is about consistency too. Fortunately, this bike training app will keep you engaged all the time. It will help you keep up with your schedule and progress every day. Just log into the app and feel the changes in your life, yourself.