Anklets: India is a country noted for its many cultures and traditions. Our country's men and women uphold these centuries-old traditions. And decorations and jewellery have always played a significant role in it, and they continue to do so. Anklets are one of numerous customs, particularly for ladies. Most people believe it is only for aesthetic reasons. However, this is not the case.
Anklets, mostly made of silver and certain other metals like brass, have been around for thousands of years and have strong roots in our society. Women have worn it throughout history, from the Indus Valley Civilization to the Rajputanas to the Mughals. According to Vedic research, it have a significant impact on women's health and overall well-being.
The Importance of Anklets in Indian Tradition
Anklets are Payal in Hindi, Pazeb in Urdu, Jhanjhar in Rajasthan, and Nupur in Bengali. The most basic explanation is that they are metallic strings worn around the ankles of ladies and girls' feet. Men wore them in ancient India as well. Traditionally, gold were worn by Kshatriya warriors or those from the upper castes, whereas those from the lower castes wore silver anklets. Gold are no longer will use since gold represents Goddess Lakshmi, and wearing it on one's feet is irreligious.
Anklets come in a wide range of patterns and styles. Traditional ones are frequently embellished with meenakari art to make them more appealing and vibrant. There are also pearls, beads, and little stones of various hues and miniature bells. Married ladies typically wear them to commemorate their union, but unmarried females also wear them to show bravery and pride. On her first visit to her husband's house, the married woman will usually give Payal anklets.
Anklets typically have little tinkling bells around them that jingle as a woman moves. In the past, the sound served as a warning to male family members that a woman was on her way and should be courteous. A wife also employed them to gain her husband's attention.
The pleasant sound produced by the rhythmic stomping of the feet in various postures will complement musical instruments' sound. Many little bells, known as ghunghroos, make , which dancers primarily wear. Ghunghroos play an essential role in ancient dance genres like Bharatnatyam and Kathak.
Also Read: 10 FLOWY CLOTHES EVERY GIRL SHOULD HAVE
Silver Anklets Have Health Benefits
Human bodies will know to create enormous quantities of energy, with the majority of that energy considered to radiate through our extremities, or hands and feet. Furthermore, because silver is a highly reactive metal, it is said to hasten the process of releasing any bad energy from a woman's body. The silver in the jewellery will also help women's immune systems and fertility.
Recent Trends in Anklets
Apart from that, have been making a resurgence in recent years. They are pretty popular in the Western world. Unmarried girls, as well as married ladies, see them as a terrific fashion item. Anklets are available in various styles, ranging from modest and delicate to bright and showy. They look fantastic with both traditional and western designs, such as sarees and salwar suits, as well as dresses, skirts, and shorts. They have a luscious fervour and are gorgeous, tiny, and subtle.
When it comes to anklets, there are many styles to choose from; let's have a look at some of them.
Anklet Varieties
Anklets with Beads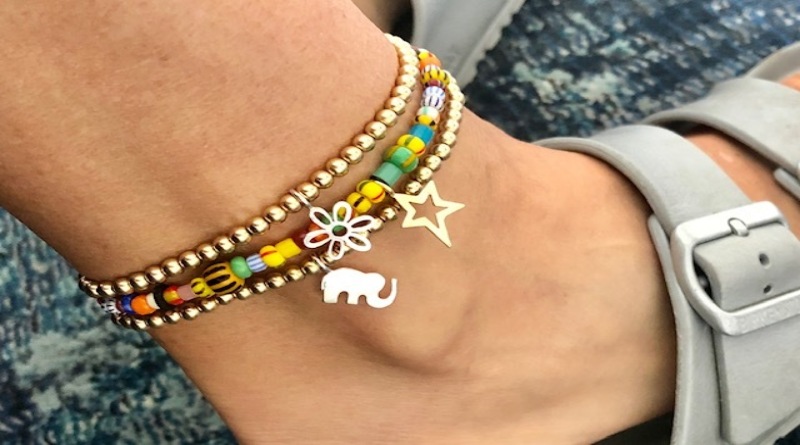 Anklets with beads are more informal and whimsical. Will frequently fashion with pretty appealing and brightly coloured dots. They blend nicely with summertime casual ensembles and are also a terrific beach accessory.
 Anklets with Charms
Charm anklets are the most popular because of their lovely appearance. Small charms, such as hearts, stars, and leaves, hang from that go well with casual clothing.
 Anklets made of stone
Glass stone-encrusted are a fantastic match for your ethnic clothing. They have an exquisite appearance and offer a splash of colour to your outfits.
Anklets with Layers
At the moment, layers are a significant jewellery trend. Everywhere you look, you'll find layered necklaces, rings, and anklets. Layered are worn by everyone, from celebrities to fashion influencers worldwide. You may go for a layered anklet if you want to keep up with the trend.